Broadening Your Horizons in 2019/2020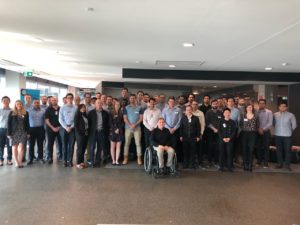 RISSB is offering a unique opportunity to up and coming technical professionals in the rail industry to be part of shaping rail's technical future.

Now in its second year, the Horizons Program, running from September 2019 to April 2020, will:
• Provide a forum for knowledge sharing and learning with a focus on cutting-edge technology and innovation.
• Extend the participant's professional network on a national scale both within and outside the rail industry.
• Provide participants with the skills to drive and manage change.
• Encourage young professionals to provide technical input into RISSB's and the rail industry's future.
• Assist in improving the safety and productivity of the rail industry through participation in the development of RISSB products.
Most importantly, the Horizons Program seeks to address the challenges of the future rail industry, today.
What set us apart from other development programs are three words – networking, innovation and learning.
Program participants will:
• Problem-solve and connect with other high-potential candidates.
• Benefit from the perfect blend of theory and practical exercises.
• Develop their potential alongside leaders from other organisations.
• Meet CEOs and senior managers of major transport-related and other organisations.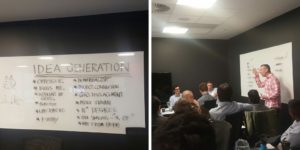 Horizons Program 2.0 Format
Horizons Program 2.0 comprises:
• A teleconference launch with participants in September 2019.
• A kick-off forum in Melbourne (likely to be late October in Melbourne).
• Regular technology update webinars throughout the program.
• Site visits focused on applications of new technology.
• Engagement with a RISSB Development Group of choice throughout the program and small group work on new Standards, Guidelines and Codes of Practice for industry.
• Group projects and presentations.
• Two forums in late 2019 (Brisbane, December) and early 2020 (Sydney, March) with the last forum adjacent to the 2020 RISSB Rail Safety Conference in Sydney.
Who can attend
Nominees should preferably be aged 35 or under with up to five years' experience in the rail industry. The Horizons Program 2.0 is open to all RISSB members as well as non-member organisations. RISSB will accept prioritised nominations of up to 3 people per organisation.
Cost
For RISSB members, there will be a cost of $1,950 (plus GST) per participant to cover program costs.  Non-member's cost will be $2,490 (plus GST)
How to apply
To get involved, your organisation will need to:
• Fill in the nomination form which includes a nominator who should be a line manager/senior manager who is prepared to be the primary RISSB contact within the organisation for the program and a mentor for the participant. Organisations can nominate more than one participant, but should prioritise their nominations.
• Cover all costs for the program which includes the course fee of $1,950 (plus GST) for members and $2,490 (plus GST) for non-members as well as all travel and accommodation costs for each stage of the program including travel to forums and development group meetings, as well as the (optional) discounted registration cost for the Rail Safety Conference in 2020. Payment will be due before Horizons Program 2.0 begins.
• Ensure each nominee is available for the initial two-day Horizons Program 2.0 forum likely to be in Melbourne in late October 2019 (as well as forums and other meetings in 2019 and 2020 on dates TBA).
Please complete the nomination form and send it to pallan@rissb.com.au by COB Friday, 2 August 2019.
For more information
If you are interested in the Horizons Program 2.0 and would like more information, please contact Phil Allan at RISSB at pallan@rissb.com.au or on 0401 120 978.
We also have an FAQ document that provides more information about the program.