Rail Innovation - Adapt or Adopt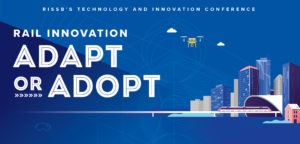 *THIS EVENT HAS BEEN POSTPONED. PLEASE KEEP CHECKING THIS WEBSITE FOR NEWS OF A NEW DATE*
About
Change the way you think about new and emerging technology at RISSB's Technology and Innovation Conference this August. Go deep on the very issues and challenges facing the rail industry in the digital age and hear from industry-recognised speakers who are already implementing new, changing and developing technology in their own organisations.
Catering to everyone in industry from project managers to C suite executives, conference delegates will walk away with a greater understanding of how new and emerging technology and practices can be harnessed to improve safety, drive productivity and optimise performance.
Keeping a finger on the pulse of the Australian rail industry, this 2-day event will focus on areas that are growing in prominence in the rail industry with presentations on:
• Automation
• Sustainability
• Asset Management
• Human-Machine Integration
• Customer Information
• Condition Monitoring.
All our speakers will be giving practical advice on real problems, using their businesses as case studies for you to learn from. There will also be thought-provoking panels and debates that spark discussions and the exchange of ideas.  Get ready to hear some big ideas presented by influential leaders from some of the biggest names in rail!
In addition to the business sessions and presentations, the conference will give delegates a chance to relax, unwind and build their professional networks with a signature after-hours networking drinks event at the end of Day 1.
Confirmed speakers
We have an eclectic mix of international and local speakers on this year's agenda. Confirmed speakers include:

5 Keynotes
Lisa Stabler – Transportation Technology Centre (USA)
Michael Hickson – Qube Holdings
Luisa Moisio – RSSB (UK)
Dr Tony Lee – MTR (Hong Kong)
Sasha Baranikov – Fleetspace (TBC)
They will be joined onstage by:
Catherine Baxter – MTM
Diane Riley – WSP
Ben Phyland – Department of Transport Victoria
Bonnie Ryan – GS1
Derel Wust – 4Tel
Anne Howard – MTM
Roy Moser – Sydney Trains
Charles Page – Siemens
Anne Kovachevich – Arup
Aniess Israel -Wenco International Mining Systems
Lindsey Duncan – Interfuze
Joel Ferguson – University of Newcastle
Cong Qui and Ravi Ravitharan – Institute of Railway Technology Monash
Somnath Banerjee – Hitachi Rail STS
Prof. Doug Creighton – Deakin University
Himanshu Jindal – Downer
Nick Coleman – Tactix
Bryony Outteridge – Queensland Rail
Plus many, many more.
Topics
If our keynote speakers aren't enough of an incentive for you to attend, then some of the topics on offer could be just the ticket:
* Using technology to enhance condition monitoring and cut costs
* Where do artificial intelligence and rail come together?
* Trackside robots
* Metro Trains innovation agenda
* Linking mobile phone data and public transport planning
* Human-centred design for drivers
* Composite sleepers
* Fatigue technology
* Train DNA
* Automated, renewable and scalable freight handling.
Sponsorship
If you'd like to get your name in front of industry's senior project managers, risk managers, IT managers and engineers, then consider an event sponsorship. We can develop a bespoke package for you that will increase visibility of your organisation and connect you with the right people. If you would like someone to contact you to discuss sponsorship packages, please send an email to events@rissb.com.au with the subject line TIC sponsorship.
More information
If you have specific questions, or would like more information about the event, please send an email to events@rissb.com.au with TIC 2021 in the subject line.
Conference Registration Fees
| | |
| --- | --- |
| Member Registration Rates | Price |
| 2-day Conference Member Rate | $1,195 + GST |
| 2-day Conference  Member Young Rail Professionals Rate (Under 35) | $595 + GST |
| 2-day RISSB Member Virtual Rate | $695+ GST |
| 2-day RISSB Member Young Rail Professionals Virtual Rate | $395+ GST |
| Standard Registration Rates | Price |
| 2-day Conference Rate | $1,995 +GST |
| 2-day Conference – Young Rail Professionals Rate | $995 +GST |
| 2-day Virtual Rate | $1,195+GST |
| 2-day Young Rail Professionals Rate | $695 +GST |