RISSB Membership Information
As a RISSB member, you will be part of a dynamic organisation that is at the forefront of safety and standards development in the rail industry. Becoming a member of RISSB will provide access to many valuable services and benefits and afford you the opportunity to participate in the governance of RISSB through the nomination and election of four Industry Directors who each represent a sector of industry.
RISSB members are from across the rail industry. and membership is open to all organisations involved in rail.
Download our membership flyer to discover the many benefits of RISSB membership.

Passenger Operations

Network Managers/Owners

Freight Operations

Suppliers and Contractors/Other Industry Participants
Important advantages of being a RISSB Member
Provides Standards, Codes of Practice, Guidelines and Rules that you can use directly or modify for your specific operations or project

Ensures your organisation is part of a collaborative industry driven process which leads to improvements in safety and productivity in the rail industry

Unrestricted access to the Australian Rail Risk Model (ARRM)

Saves your organisation significant development costs and offers safety assurance
Broad involvement with various industry groups

Provides access to technical advice on RISSB publications and broader safety matters

Offers opportunities to network with an extensive pool of rail industry professionals

Provides opportunities to promote your organisation and learn from others
RISSB Membership Fees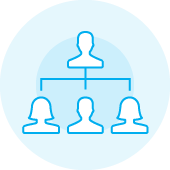 The Membership fees are set out below for the financial year 2019/20.
Fees are payable on a financial year basis and are not refundable. For members who join between 1 October and 31 March a pro rata fee will apply. For members who join after 1 April there will be no fee for the current year but the fee for the following year will apply.
Please note in determining the Class of member only turnover (or revenue) from rail related activities is considered. Turnover from other industry sectors is not relevant and should be ignored for the purposes of RISSB membership.
Fee Structure – Members
| | | |
| --- | --- | --- |
| Industry Turnover PA | Funding Class | Annual Fee (excl. GST) |
| >$750M | 1 | $220,037 |
| $250 – $750M | 2 | $145,552 |
| $100 – $250M | 3 | $81,262 |
| $50 – $100M | A | $37,119 |
| $20 – $50M | B | $17,467 |
| $5 – $20M | C | $8,735 |
| $1 – $5M | D | $4,321 |
| <$1M | E | $3,252 |
=
Apply for Membership
FAQs
Is My Organisation Eligible for Membership?

What Happens After I Submit My Application?

I'd Like to Join the RISSB Board, Am I Eligible?
Is My Organisation Eligible for Membership?
You will be eligible to be a Full Member of the Company if membership is for:
(a) an accredited rail transport operator (either as a rail infrastructure manager or a rolling stock operator or both), whether within Australia or overseas
(b) a government agency or organisation that controls the management of rail networks by a rail transport operator
(c) a contractor or supplier supplying services or equipment to the Industry
(d) an association with a key focus on the Industry.
What Happens After I Submit My Application?
You form will be forwarded to RISSB's Company Secretary for review and then provided to the Board for their consideration. The Board may, in its absolute discretion, approve or reject an application to become a Member and determine the class of membership for which an applicant or existing Member qualifies.
I'd Like to Join the RISSB Board, Am I Eligible?
Here are the conditions:
(i) you consent to being appointed a director of the Company
(ii) an Industry Director must be a natural person
(iii) the person must be nominated by their employer or sponsoring organisation who is a Full Member; and
(iv) the person's employer or sponsoring organisation must be a Full Member representing one of the four categories:
A. Passenger Operations;
B. Freight Operations;
C. Network Managers/Owners; or
D. Suppliers and Contractors and/or other Industry participants.
(b) No person shall be qualified to be elected or appointed to the Board as an Industry Director unless their employer or sponsoring organisation who is a Full Member has paid their Subscription in accordance with clause 4 of RISSB's Constitution.
Important Notice
All members are reminded that they have access to a copy of RISSB products but must not distribute, copy or allow any third party (including any members of the Member) to have access to those products unless RISSB provides its express written permission.