29 Jun 2021
Landmark Milestone For RISSB And ALCAM
RISSB is pleased to announce that it has taken over support of the Australian Level Crossing Assessment Model (ALCAM).
"Today marks the beginning of an exciting new chapter for RISSB, one where we will be able to help more people than ever to prioritise their works, said Deb Spring," Executive Chair and Chief Executive Officer, RISSB.
"The National ALCAM Committee have built and administered one of the most respected level crossing risk assessment platforms in the road and rail industries, so I'm thrilled that RISSB can be associated with this critical risk tool.
"As excited as I am about RISSB's connection to ALCAM, I know the real winner with this arrangement is industry," she said.
From a user's perspective, very little will change in the immediate future with RISSB at the helm. Users will still be able to interact with ALCAM and the LXM System the same way and access ALCAM information via www.alcam.com.au.
ALCAM and the LXM System will continue to be governed by the National ALCAM Committee with the changes largely internal and behind the scenes.
If you would like more information about ALCAM and its capabilities, visit the ALCAM website www.alcam.com.au.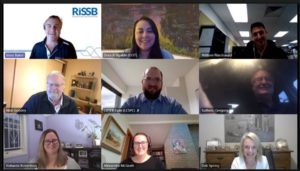 Photo: The National ALCAM Committee, VicTrack and RISSB marked the occasion with a COVID responsible ribbon cutting ceremony.