Horizons Program 6.0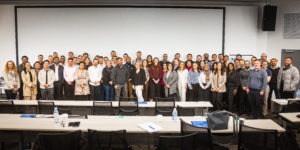 Horizons Shaping Rail's Technical Future
The RISSB Horizons Program is part knowledge sharing and part leadership development. Most importantly, the Horizons Program seeks to address the challenges of the future rail industry, today.
RISSB is offering a unique opportunity to up and coming young professionals in the rail industry to be part of shaping rail's technical future.
The Horizons Program 6.0 will:
Provide a forum for knowledge sharing and learning
Extend the participant's professional network both within and outside the industry
Provide participants with the skills to drive and manage change
Engage young professionals to provide technical input into RISSB's and the industry's future
Assist in improving the safety and productivity of the rail industry through RISSB products.
Participants will be taken on a practical professional journey, growing their knowledge of cutting-edge technology and developing an innovation mindset that will help position your organisation as a business of the future. The next generation of leaders will evolve their 21st century skills such as critical thinking, problem solving, creativity, communication, and collaboration, alongside other handpicked young leaders from Australia and beyond and learn about RISSB and Standards development.
Horizons 6.0 will bring benefits to the young professionals, their organisation and the industry more broadly.
Horizons Program Format
The Horizons Program includes:
Forums (Get togethers delivered virtually or face-to-face) featuring CEOs, technical leaders and other influencers
Workshops
Webinars covering a range of technical and professional topics
Developing an understanding of what RISSB does and how Standards are developed
Group projects
Developing and presenting group ideas (pitching) to panels of industry leaders.
The program fee is $2595 (ex GST) and covers all face-to-face Forums, online mentoring sessions, completion and debrief of individual DISC Profile and networking events (3).
Who can apply?
Horizons 6.0 is open to all leaders within the rail industry. It is expected nominees will be highly regarded in their organisation and interested in the program, able to attend ALL stages of the program and be prepared to learn and contribute.
Please note that this program is for RISSB member organisations only.
*RISSB reserves the right to limit the number of participants per organisation.
Nomination Form
If you are interested in nominating someone in your organisation, please complete the online form.
More information can be found in the RISSB Horizons Program brochure.
Key Dates
Nominations open – RISSB members can nominate someone within their organisation from Monday 2 October 2023.
Nominations closing date – For RISSB members, the closing date is Friday 10 November 2023.
Successful applicants notified – Successful applicants will be notified by the end of November 2023.
Horizons Program 6.0 will start with an introductory TEAMS meeting in early March 2024. 
The Forum dates are:
Forum 1       Thursday 4th April – Friday 5th April 2024        Deakin Downtown, Melbourne
Forum 2      Thursday 25th July – Friday 26th July 2024       Owen J Wordsworth Room, QUT Gardens Point Brisbane
Forum 3      TBA October 2024                                                     UTS University, Ultimo, Sydney
For more information
If you would like to know more about the Horizons Program, please send an email to sweston@rissb.com.au
Horizons Program 5.0 Interoperability Strategy Competition winners
In our most recent Horizons Program 5.0, participants took part in The Interoperability Strategy Competition. This competition involved teams identifying five key challenges currently facing the Australian rail industry, and providing staged solutions to implement and deliver an interoperable future in the industry.
Team 'Eurostar' were announced as the winners of the 2023 Interoperability Strategy Competition, pictured below accepting their award from the CEO of RISSB, Damien White. (from left to right)
Amelia Barnes, Station Design Coordinator, Suburban Rail Loop Authority
Michael McGhie, Manager Safety Strategy, QR
Tomos Luker, Design Engineer Rail, Cold Forged Products
Ken Liu,  Senior Manager, Workforce Modelling, Sydney Trains
Damien White – CEO RISSB
Absent: Karen Sheiles, Crewing Coordinator, One Rail Australia and Suresh Sangarapillai, Design Engineer, Downer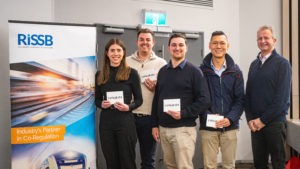 The work produced by the teams for this competition will contribute greatly to RISSB and ultimately the rail industry as a whole, to help improve its safety standards and performance.
Below you can view the reports produced by the top three groups: