How To Enrol
Information on all courses is freely available on the RISSB website – you might want to check details of the course to see which suit you or your organisation.
Learning Express Courses
The steps below are for individuals wishing to enrol in a RISSB Learning Express course.
If your organisation wants to make a group booking, or if you are booking on behalf of someone else, or you wish to become a RISSB member before enrolling, please contact RISSB at training@rissb.com.au
STEP 1  Creating an account
All Learning Express courses are accessible via the Training tab on RISSB's website.

To enrol and participate in a course, students are required to have either a RISSB Funding Member user account or RISSB Affiliate account.
If you have an existing account simply log in on the RISSB website.
If you would like to obtain a user account, please do so using our online application  https://www.rissb.com.au/membership/member-sign-up/
During the signup process:
If you are employed by a RISSB MEMBER organisation, select 'Apply for an Employee account'.
If you are not employed by a MEMBER organisation, select 'Apply for an Affiliate account'.
Note: RISSB Member employees are required to apply using their work email address.
STEP 2 Enrolment
When the Training tab is selected several drop-down options will appear.

Click on Learning Express
All available courses will be displayed. If you have already enrolled in a course, it will not be offered to you.
You can simply click on the course you wish to do or you can read more about each and then choose a course and click on it.
You should read all the information about the course before you enrol. Each course has information about the course content, who should attend, the cost, how to pay and what is required to pass. Note: If you cannot pay by credit card you will need to contact RISSB at training@rissb.com.au so enrolment can be arranged.
Click on ENROL NOW.
This will open the COURSE BOOKINGS page and the available courses will be displayed with Add to Cart and Buy Now icons available.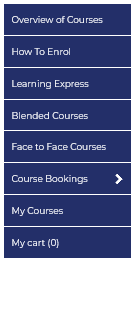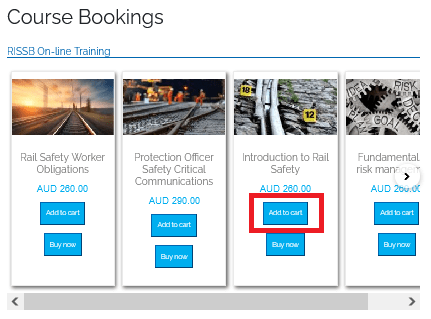 To enrol, students can either:
add one or more courses to the cart, or;
can click on 'Buy now'.
Step 3 Payment
Click on My Cart when you are ready to pay for the course(s).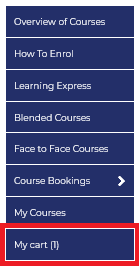 Click on PURCHASE
This button is at the bottom right of the page. The fee displayed there will recognise your registration status (member or non-member).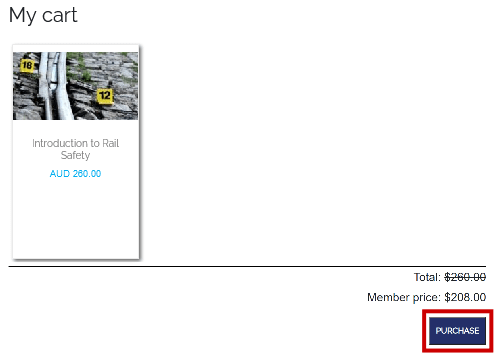 You will be directed to PayPal for payment.
Click on Pay with a Card.
Once payment has been made, confirmation will be provided by an email sent to your email address (it may take up to 1 minute for this to occur).
Click on Return to Sellers Website.
This will take you back to the RISSB training page.
Step 4   Accessing the Course
You can now access the course by clicking on My Courses.

click on OPEN to start the course.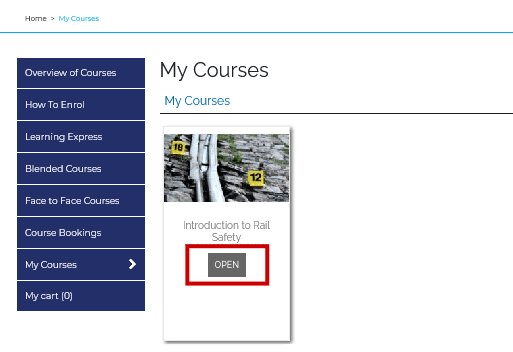 You will be directed to a webpage with access to any course that you have enrolled in (example shown below). This will provide details about the course including the number of attempts, requirements for course completion and any other useful information.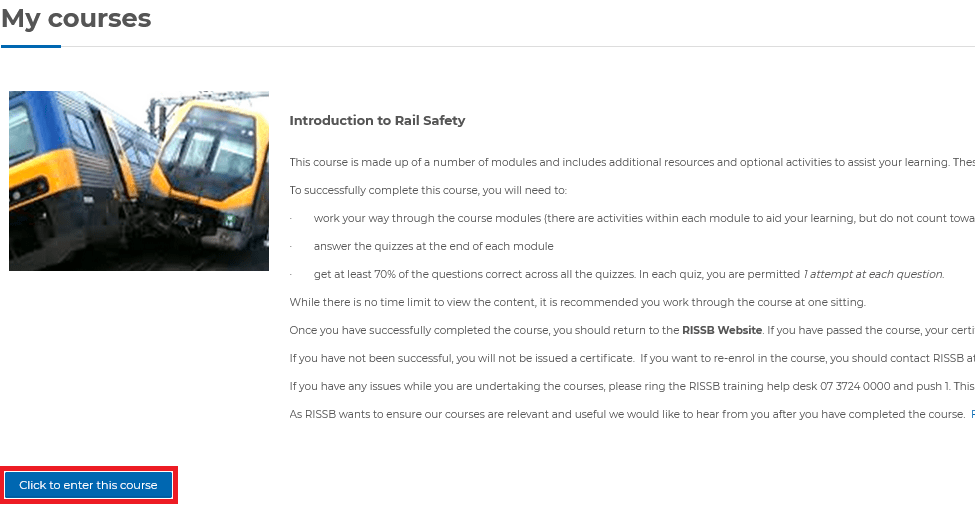 Click to enter this course.
This will open the course and a number of "tiles" will be displayed.
It is recommended that you complete the course from the beginning, in a single sitting.
Once you have completed the course, you will receive a notification as to whether you have met the requirements of the course, and whether or not you will receive a certificate.
Follow the instructions included at the end of the course, and click on the "My Courses" link where requested to access the certificate.  You will be directed to the "My Courses" section of the RISSB website.
The course that you have completed should now include a link to your certificate.
If the certificate is not available to you, refresh the window. The course details will update.
An email with a link to the certificate will also be sent to your email address.
If you do not receive a certificate on successful completion of the course, please contact training@rissb.com.au.
Blended and Classroom
These courses will be delivered by, or in conjunction with, a Registered Training Organisation (RTO).
You can register your interest in doing one of the courses at training@rissb.com.au
Dates and timing for courses will be on the RISSB website and you will be contacted directly by RISSB.
Organisations that wish to arrange for a course outside the scheduled training timetable can submit a request to RISSB by contacting training@rissb.com.au .